Deep-rooted racial discrimination in Sri Lankan criminal justice system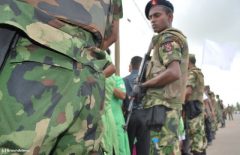 At the 39th session of the UN Human Rights Council, the Working Group on Arbitrary Detention presented its country visit report on Sri Lanka. IMADR submitted a written statement with a focus on racial discrimination in the Sri Lankan criminal justice system including the application of the Prevention of Terrorism Act (PTA). More >
250 million worldwide oppressed under caste and analogous systems of inherited status
Racial discrimination based on descent is a challenge for all human beings. Two and a half million people throughout the world continually suffer from this form of discrimination. This is a compilation of reports and theses contributed by those working towards the elimination of discrimination based on descent at different levels, including at the UN, and as individual experts or civil society activists. Though published in 2004, almost nothing has changed regarding the facts and data contained in this book.
Though published in early 2009, right before the forced termination of the war in Sri Lanka, this book is still relevant to the current situation of the country. Many camps for internally displaced people (IDPs) remain, where people are facing a humanitarian crisis. Researchers and NGO activists contributed to the on-the-ground reports in this volume.
Exploring the Links between Marginalization and Exploitative Migration Exploitative migration takes place in connection with marginalization. Those subject to marginalization usually belong to minority communities. This book explores into this old yet on-going issue from different perspectives. Edited and published in December 2006 by IMADR.